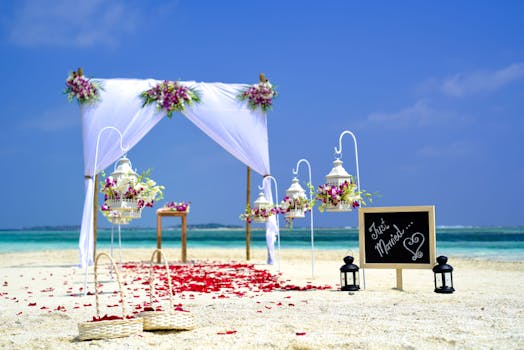 Are you looking for an idyllic wedding venue complete with the natural beauty of the fragrant ocean, sandy beaches, and perfect weather? Look no further than Sea Gardens Beach and Tennis Resort for a picture-perfect wedding and amenities that only paradise can offer! Featuring unlimited potential with a beautiful reception hall and beachside wedding venue, your special day is customizable to fulfill your dream wedding wish list.
When planning your fantasy wedding in sunny Florida, consider your goals and guest list. Take the stress out of planning with the perfect luxury location on beautiful Pompano Beach.
Plan for Your Guests
Are you hoping for a big wedding or a small, intimate gathering? We have venue options and a variety of seating arrangements to accommodate your needs, big or small. In addition to beautiful views, our venues come complete with chairs, tables, cleanup, and security.
Ocean View is a venue for small to mid-size parties seating up to 100 people.
Grand Beach is a venue designed for large parties seating up to 250 people.
Plan for Entertainment
Picking a wedding destination that offers fun and excitement at your fingertips is the perfect plan for entertaining everyone. Just minutes from Fort Lauderdale and Boca Raton, guests can enjoy watersports, shopping, local cuisine, and more! Whether you wish to enjoy on-site amenities or explore nearby attractions, there is something for everyone in Florida.
Plan for Luxury Accommodations 
At Sea Gardens, we have a variety of accommodations spread across 5 resort communities, offering unique environments to suit our guests' preferences. Whether your wedding party is seeking rest and relaxation or fun in the sun, we've got a luxury location just for you. With fitness, tennis, spas, pools, and a tiki bar on site, it's luxury amenities and customer service every step of the way! 
Each wedding is as unique as each individual couple. Each facet of your wedding is customizable to meet your needs. Let's start planning the wedding of your dreams by contacting the event experts at Sea Gardens at (954) 943-6200.
Photo credit: public domain via www.pexels.com
Photo credit: public domain via www.pexels.com